Kershaw Talon (Model 1420)
---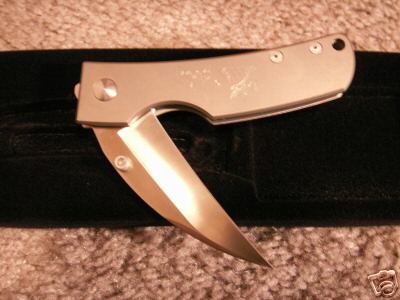 Kershaw Talon (Model 1420)
Liner lock folder made by Kershaw Knives of Oregon. Hawkbill 3.25" blade of ATS-34 steel, 7.25" overall length, Titanium handles, weighs 4.1 oz.

Unusual hawkbill style blade, available in either plain edge or 1/3 serrated. Early prototypes had a bottle opening cutout in the handle (a monstrosity that was thankfully removed before full production). Knife is no longer in production.

Comments:
Hawkbill blade works great on rope and line, especially with the outstanding deep hollow grind. Operation is buttery smooth, thanks to teflon bushings (opens smoother than any folder I've ever owned, production or custom). Well made and locks securely, although the liner is a bit thin. Heavy for its size due to the thick titanium handles.
---
Home . Alternity . Legend of the 5 Rings . Warhammer FRP . Other.