---

Chris Reeve Large Classic Sebenza
Integral lock folder made by Chris Reeve Knives of Boise, Idaho.
3.5" blade of BG42 steel, 8.25" overall length, Titanium frame and lock, weighs 4.0 oz.

Chris Reeve Knives have been making quality knives for more than 16 years and their Sebenza folders are regarded as one of the finest folding knives available today. These knives are available in several versions; large and small sizes in regular or classic configuration. Chris Reeve also makes "dressed-up" versions of their basic Sebenzas using damascus steels and wood inlays.

Comments:
While their price (US $345 as at Jan 2001) makes them probably the most expensive production knives currently available, you get what you pay for. Precise rock-solid lockup from the integral (frame) lock mechanism. Smooth as glass operation thanks to the phosphor bronze bushings and close tolerances. Premium BG42 blade steel, hollow ground thin enough to slice like a dream. Even disassembles easily for cleaning.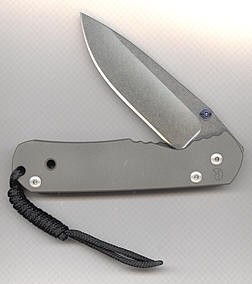 Chris Reeve Small Regular Sebenza
Integral lock folder made in 2000 by Chris Reeve of Boise, Idaho.
2.874" blade of BG42 steel, 6.875" overall length, Titanium frame and lock, weighs 3.0 oz.

This is the smaller version of the famed Chris Reeve Sebenza made to the same high standards as its larger brother.

Comments:
Many knife users (including the author of this website) consider the small sebenza to be just about the best compromise in a daily carry knife. While perhaps not as strong as the large Sebenza, its blade length comes in just under 3" making it legal and more socially acceptable in all but the most restrictive places in the world.
---
Home . Alternity . Legend of the 5 Rings . Warhammer FRP . Other.